Admin dashboard
Admin of the site will have overall control on the website. From the dashboard, admin can get a quick glance on the total car owners, the total number of passengers in the site, lists of cars on the site, etc. The dashboard also represents the user's login/signup data through email, facebook login, etc.
Revenue Management
Since admin has full control over the website, an admin will be able to manage the revenue earned through the site, from the commissions for listing property and experience, charges for cancellation, etc.
Commission Management
Admin will set the commission for each booking and listings made as source of their revenue. Admin has control over the commission set and can change it at any point of time.
Manage Users
Users i.e the passengers of the who are registered with the website can be managed by the admin. Admin at any point of time, has the control to set the passenger's status to active/inactive and to edit their information.
Manage Listings
All the listings made in the website by the car owners will be first screened by the admin before they are listed on the website. The cars will be listed when the admin approves the listings of the car owners.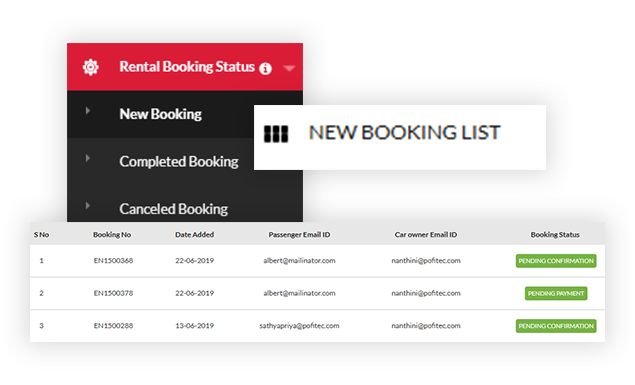 Manage Bookings
Every booking and reservations made through the website, admin will be notified and has overall control to manage the bookings to cancel, or accept.
Manage Listing Dimension
All the features, car models and the specifications which a host can add to their listings will be added and managed by the admin. Admin has overall control about what is to be displayed on the website.
Manage Ratings & Reviews
All the ratings and reviews given by the passengers will be displayed on the website only after approval of the admin. Admin has the right to disapprove any ratings or reviews.
Manage Disputes
The disputes which the passengers list will be handled and managed by the admin.